Act locally, affect globally:
Steiner/Waldorf schools change the world
The first Waldorf school was founded in Stuttgart in 1919. Today there are over 1,100 Waldorf schools and 1,700 Waldorf kindergartens in 80 countries around the globe. And more all the time. We are making our Centennial an occasion to further develop Waldorf education for contemporary times, and focus more consciously on its global dimensions. With many exciting projects on all continents. Keep your ears and eyes open, and be part of the movement: 100 years are just the beginning!
Over 1,100 Waldorf (or Waldorf-inspired) schools and 1,700 Waldorf kindergartens in 80 countries around the globe. And more all the time. You will find all of them here – with address, contact data, websites, and their individual Waldorf100 project (if they have already decided on one for the Centennial).
We promote mutual recognition and networking (in the schools themselves, but also regionally and across national borders) to create a vital international connectedness that is more important today than ever before. We are beginning to work on community-building activities – large and small, complex and simple, instructive and entertaining, as diverse as the world in which we live. Become involved, join the effort, show your world to others. For instance, in projects like these:
Location: world-wide
Initiator: Waldorf100
Start: Beginning 2017
One of the "core projects" of Waldorf 100 is a series of musical compositions written especially for our Centennial Celebration by master students from composition classes in leading music schools around the world.
Location: world-wide
Initiator: Waldorf100
Start: Spring 2017
A hands-on community, real instead of virtual: 1,100 schools write and send each other 1 real(!) postcard – a total of 1,100 cards.
Marathon around the world
Location: world-wide
Initiator: Waldorf100
Start: Early 2017
This never happened before: pupils, parents, and teachers from 100 different Steiner/Waldorf schools run a relay race "with the sun around the world". Following the course of the sun, a total of 24 hours.
Join in now and submit your project
Waldorf100 depends on projects – your projects. Do you have an idea with which you would like to take part? Would you like the world to see your project? Then why not send it to us right now! It's really easy: Enter your name, and we'll get in touch with you and give you our support.
Submit your project
We are happy to announce that our film "waldorf 100 – Learn to Change the World" is accessible now. Please follow this... read more
The Waldorf100 initiative arose in fall 2014 at a conference of the International Forum for Steiner/Waldorf Education held in Israel. In the meantime, many associated and partner institutions have endorsed the idea.
The upcoming Centennial offers a unique opportunity to make full use of a global exchange of ideas to develop our educational practice for the needs of this century. We will reinforce our mutual awareness and networks with an array of diverse projects and actions in schools and kindergartens, regionally and internationally. These projects will illuminate how Waldorf education overcomes cultural, ideological, economic, and social borders.
The fresh impetus from each Steiner/Waldorf facility around the world is a central element in the overall concept. We look forward to hearing about exciting project ideas – nothing is too small, nothing too large, nothing too simple and nothing too complex. Set out with us into the second century of Waldorf education! Join us to make Waldorf100 a worthy global experience for everyone.
Many projects, especially in countries where Steiner/Waldorf facilities have scarce financial resources, cannot be realized without financial support. Donating a small sum is not painful for most of us. But it can do others an immense amount of good.
Support Waldorf100
We would be delighted to receive a €5 donation. Or more, of course.
This button leads you to the donation form, where you can select your desired amount and your preferred payment method.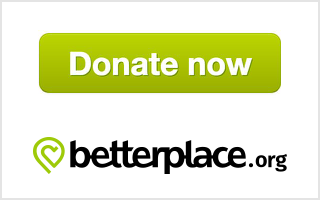 In order to make your donation as easy as possible, we work together with betterplace.org, like Waldorf 2019 e.V. a non-profit organization. Therefore, in addition to your donation for Waldorf 100, you will also be asked for a contribution to the operation of the platform, which you can freely choose from 0 – X €.
Afterwards you will receive your donation certificate directly from betterplace.org.